February 11, 2021
Process vs. Product 1 Easy Solution
There have been a lot of questions asking about Process vs. Product in call centers. In this article, we are going to try and answer your questions related to the surrounding areas. First of all, I am going to try and explain what each of the two topics in question is, and then we will go into, which is more important if any.


It is not a very easy question to answer without giving you an insight into each of the terms and what they mean in call centers. Therefore, that is why we have split them up into separate headings where we can look at them in more detail.
Product
First of all, we are going to take a look at what a product is in a call center. The reason for this is because the dictionary definition of "product" is this: Something that is made to be sold, usually something that is produced by an industrial process or, less commonly, something that is grown or obtained through farming. 
However, when you look at a call center, you may ask yourself: What is the product? Well, that is where the issue starts. The product in a call center will vary from company to company, even if they are selling the same thing. That is because the product is the process of a call. Take an inbound sales call center, for example.
We can say that the call center sells tickets for concerts. No matter how many call centers sell those tickets, none of them are going to change the tickets or concert in any way.  That means that the physical product does not change, no matter how many call centers sell them. What is going to change, however, is the way that you sell it. The process of the sale, the questions asked, and the mannerism in which they speak.
However, for a call center, that is the whole objective; to get the right process. To ask the right questions, at the right time, in the correct tone to sell the product. Those ways of talking is an ongoing process that needs to be modified depending on what you sell. So, it is more confusing now than it was at the beginning of the article.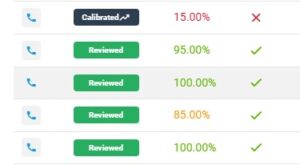 As you can see in that image, four out of the five calls have had the end product that was required but with differing scores. That is because, unlike a specific product, a call can be successful even if they miss some points.
Let's take a look at the process.
Process
As we started in the product section, let's take a look at what the dictionary definition is: A series of actions that you take in order to achieve a result. Now we may be getting somewhere. So, what are the steps that get us to an end product? Well, in a manufacturing environment, you would see those steps as design, production, quality assurance, redesign. But they are the same things that we have spoken about in previous articles on Call Criteria.
The difference in a call center is that the steps that you take is the end product. There is nothing else to it. There may be an outcome, but that is usually a score of the agent for that specific call. That is clear in the image above, where you see a tick or cross. But, let's take a look at what a process is in a call center.
Depending on the call center and their requirements, different questions need answering. I will not go into those in this article but take a look through our scorecards for call centers to get a better idea of what is required.
After you have looked through that, you will see that many different things need answering. That is the process that all call center agents should go through on every call.


As you can see in the picture above, this is a straightforward example of the type of questions that may get asked through the process of a call. However, the result of that process is still the same. It is the answers to those questions.
Process vs. Product In Call Centers?
So, what about the question Process vs. Product In Call Centers? So far, we have established that the product of a call center is almost the same as the process. That inevitably means that the process is the product? Well, it is virtually.
In a call center, the product is the result of a call based upon scoring systems. However, the process of getting there is more about getting the product correct. That is where you need to have Quality Assurance.
At Call Criteria, we use the latest technology and information to discern between the two and compile easy to read data for you to action.
It does not matter which product you are selling, or if you are not selling anything at all. The process that you need is a set of correctly formulated questions based upon the end goal. The end goal in a call center is usually a compilement of information that is put into easy to read data sheets where that information can be accessed easily.
Conclusion
Process vs. Product In Call Centers is almost identical, as you have seen throughout this article. That fact backs up our knowledge that having in house QA is often much less productive than outsourcing. The reason for that is because the process of getting a product correct when they are the same is a very tricky thing to do. The only way that you can do it is to analyze your business end goals and the steps that you need to take to get there. Then formulate a scorecard based upon those facts and requirements.
Call Criteria have been doing that for a very long time, and have an excellent track record of it too. Contact us to find out how we can help you.